Brokenstraw Soaring Club
Youngsville, PA
BROKENSTRAW AIRPORT
43rd Annual Fly-In Corn Roast &13th Annual Gliderfest
August 31's - Sept 2nd 2013


























Come join us for picnic foods and fun.
BBQ Chicken, Sweet Corn, Mac & Cheese, Salads, Chips, Desserts, Drinks & More.
Don't forget your lawn chair and be sure to RELAX !
A dish to pass is always welcome!
Questions: Bill or Sue 814-563-4949
or sue@flybrokenstraw.com
Come join us anytime!
Click on text for more details
Brokenstraw Soaring Club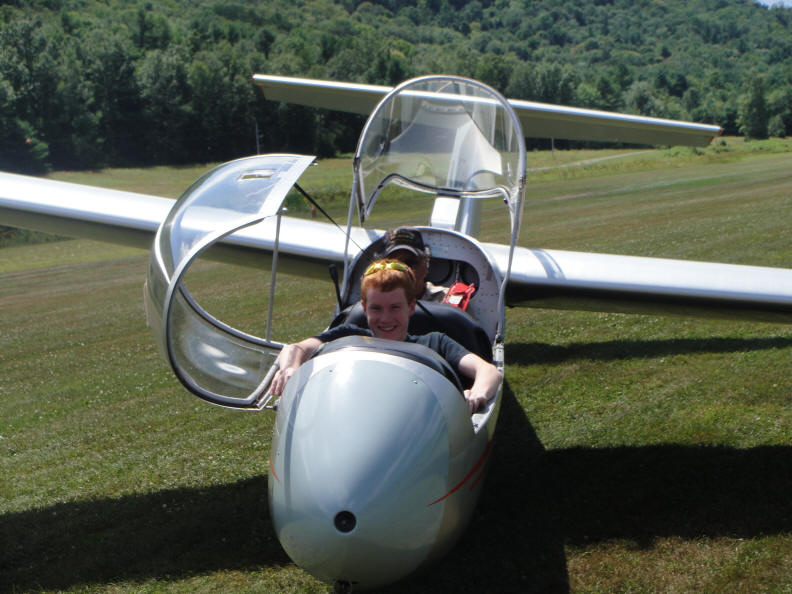 The 2013 soaring season is well underway with several new members and students,
already by June 2013 2 new members have made initial glider solo flights!
More to come!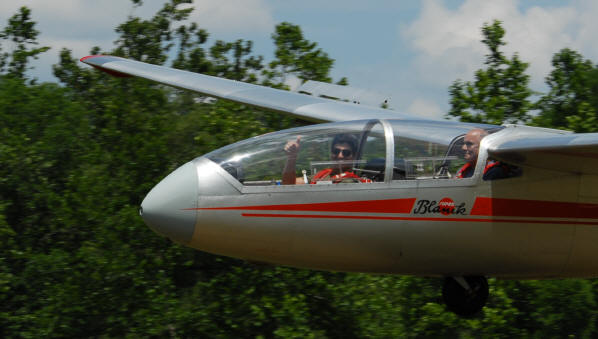 Brokenstraw Soaring Club, Inc. was formed in the Fall of 2001 from a group of local soaring enthusiasts. There are eight founding members consisting of students, pilots and instructors that realized the great soaring conditions at Brokenstraw Airport and the surrounding area. A Schleicher K7 two place glider was purchased from Tim Mara of Wings and Wheels and during the Winter of 2001-2002, it was outfitted with new instruments and given a touch-up paint job. Also during the Winter of 2001-2002, Bill Holder, the owner of Brokenstraw Airport and one of the founding members, purchased a Piper Pawnee PA25-235D and leases it to Brokenstraw Soaring Club for doing aero towing. In 2010 the engine was overhauled and now 250 HP.

The first soaring season of the club during 2002 was one of the most exciting seasons for everyone as the dream of soaring the Brokenstraw Valley area became a reality and our expectations were happily exceeded in the quality of thermals and lengths of flights that are far superior to other nearby soaring sites.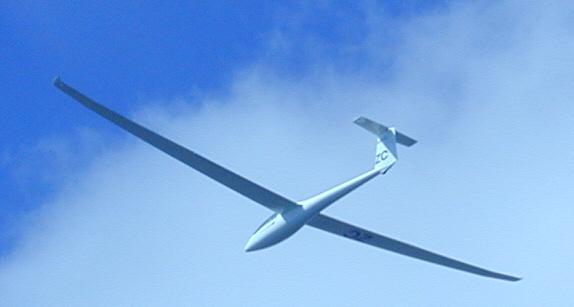 Brokenstraw Annual Labor Day Weekend
and SoarFest
Click on text above for event flyer
everyone is welcome...bring your glider and enjoy low club rates, great soaring, friendly no pressure atmosphere! Free Picnic!
The highlight of the season comes during the Labor Day weekend when we have our annual Soarfest. With our first Soarfest weekend over 30 pilots with 20 gliders enjoyed fantastic conditions the whole weekend. Pilots from Aero Soaring Club in Mayville, NY brought two gliders and their Pawnee towplane and other guest pilots came from as far away as New Jersey, South Carolina and the state of Washington. This continues to be an annual event open to all who would like to come and join with us.
Daily memberships available to glider pilots,
you must have your own glider but can buy tows at low club rates...
membership $10.00 a day
COME JOIN US RSVP PLEASE!



Our current club gliders a two place L-23 Super Blanik
and Slingsby Dart T.51 17R



For a schedule of current rates, please click here
On Friday September 17th 2010 Brokenstraw Soaring Club took delivery of it's new (to us) L-13 Blanik from the Czech Republic. This glider has just completed a factory overhaul at the LET factory so even though born in 1966 it is close to a new glider. With the overhaul and extended life limits this glider should serve BSC for years to come. There is a pending AD on L-13's in the USA but with the factory overhaul and inspections just completed this L-13 should be cleared for operation as soon as the US C of A is completed which is planned as one of our many winter projects.


Here shown being off loaded from the shipping container with the help of members, Bill, Sue, Pete, Al, Warren, Tim and helping hands Eric and Jim.
Having Pete provide a flatbed truck from Kahles's Kitchens (I hope they didn't miss it! :o)
on hand make the job possible Tim's new 304S ad Cobra trailer was shipped in the same container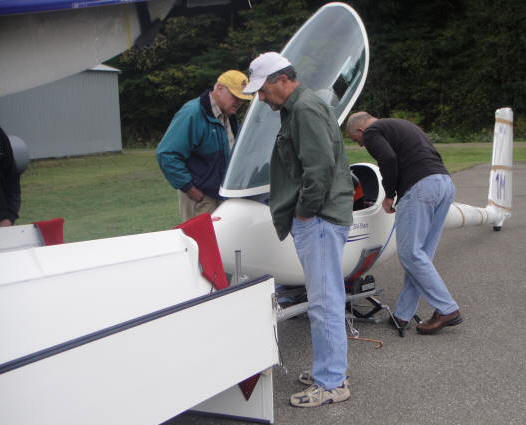 Magnificent Ship!
New Pilots News
July 31st 2013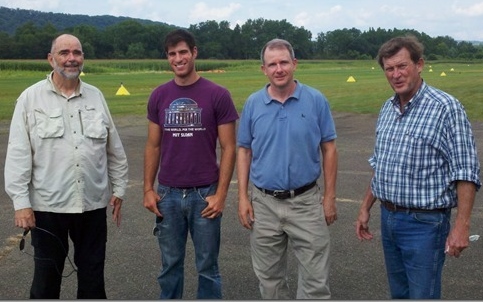 Zach & Jason (Center) both passed their Private Pilot Glider checkrides today
Examiner, Jim Sayers Far Right), came from Marion OH to do the checkrides.
Rick (Left) was a nervous guy waiting for them to finish, Bill did the towing.



On August 21st 2010 new BSC member Nick Aiello had his first (and a few more!)
Solo flights in the L-23 Blanik at BSC.
Congratulations Nick!
Nick is also a Private pilot in SEL aircraft.
New pilot certificates for BSC members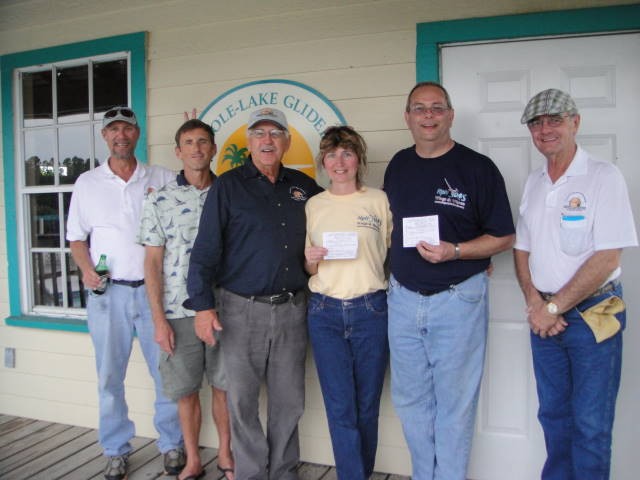 it's freezing cold at Brokenstraw in December but sunny and warm in Florida!
All's well that ends well at Seminole Lake Gliderport for Sue & Bill - we all ended up smiling - - FINALLY! Pictured from left to right: Jim Gager (Sue's Instructor), Wiley (Tow Pilot), Knut (Examiner), Sue (Private Student), Bill (Commercial Student), Jan (Bill's Instructor).
Pawnee engine overhaul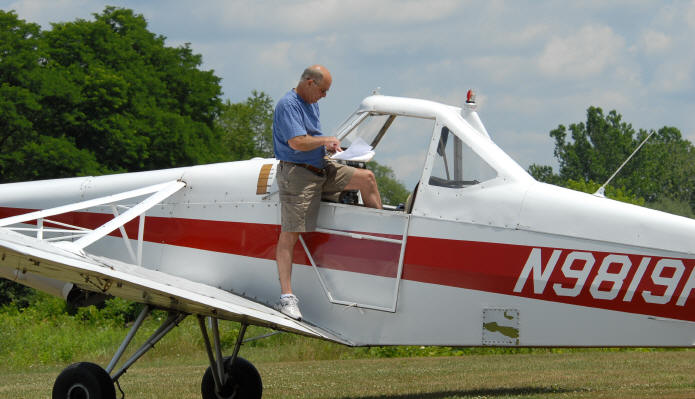 Over the winter the Pawnee tow plane engine went through a major overhaul
and was modified to 250 HP!
BSC has 5 tow pilots all qualified in the Pawnee (and others)
who perform towing duties at no cost to the club and it's members
Pictured Tim Mara
Also in BSC there are 5 rated Glider CFI's and one Ground instructor
all who volunteer their services to club members at no cost

Club & Members Sailplanes
Brokenstraw gliders
L-23 Super Blanik



Technical Data / Performance
Wing span 53.1 ft.
Length 27.9 ft
Height 6.2 ft
Wing area 206.1 sft
Empty weight 683.5 lbs
Max. weight 1168 lbs
Never exceed speed 124 kts
Rough air speed 81 kts
Aero tow speed max. 81 kts
Winch speed max. 65 kts
Stall speed at max. weight 32 kts
G-limits with 2 pilots +5.3/-2.65
G-limits with 1 pilot +6.0/-3.0
Max. glide ratio 2 pilots 28:1 at 49 kts, 1 pilot 28:1 at 43 kts
Min. rate of sink 160 fpm at 37 kts

Glasflugel Hornet "C"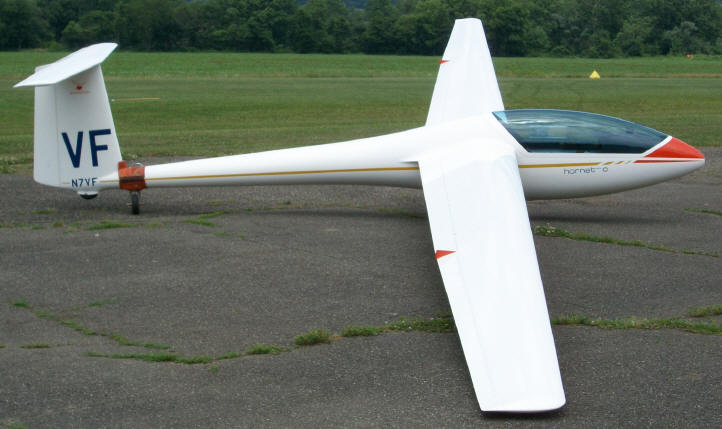 co-owned by Bill Holder and Tim Mara

Club Libelle


co-owned by Cori Capik, JJ Kush, Bill Holder and Sue Wonderling

Dart 17R #1



in 2011 4 members of BSC went together to form partnerships in (2) Slingsby Dart 17ís

Our (a partnership glider)
second Dart 17R is undergoing restoration (thanks to Pete Hall!) in 2013 and fuselage is not completely refinished!
Dart 17R #3



In June 2013 BSC agreed to buy in partnership this Slingsby Dart 17R
Maiden flight at Brokenstraw was on 7-21-2013, Flown by both Bill and Al with great reports for handling and performance (realtive:o)
This is a great glider that is available to all active Brokenstraw soaring club pilots who are qualified and signed off to fly it.
BSC has the largest fleet for Darts in the USA!
DG300



was purchased by Pete Hall for himself and grandson Matt Williams
LS3



Dan's (typical location)
Grob Astir CS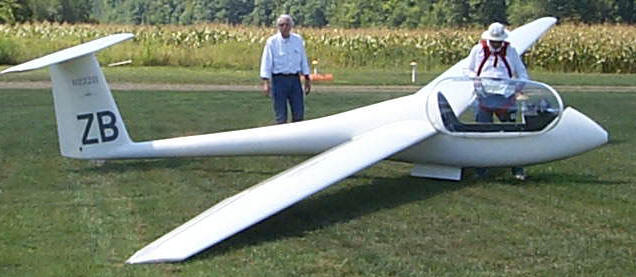 Rick Hernan's Grob Astir CS

Grob Astir CS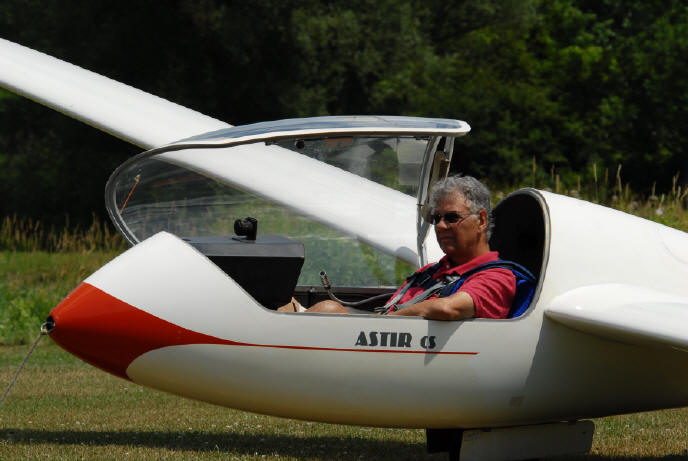 Co-owned by Tom Richter and Dave Davila

Elfe S-3



Kevin Christnerís Elfe
Other club member gliders not pictured
DG0101
Owner: Jason Robertson
HpH 304CZ
Owner: Jason Robertson
Diamant 16.5
Owner: Kevin Christner
ASW-12
Owner: Kevin Christner
ASW19
Owner: John Reynolds
H-301 Libelle
Owners: Dan Olsen and Kevin Christner

Concept 70
Owners: Tim Mara & Bill Holder
Coming soon!
HpH 304S! Coming Fall/Winter 2013



Wings & Wheels Factory demonstrator
2009-2010 CLUB WINTER PROJECTS
November 14th 2009 the L-23 was disassembled and taken to the maintenance hangar to begin it's transformation. Buffed, polished and waxed along with instrument renovations and trailer fitting to make it ready for the 2010 season.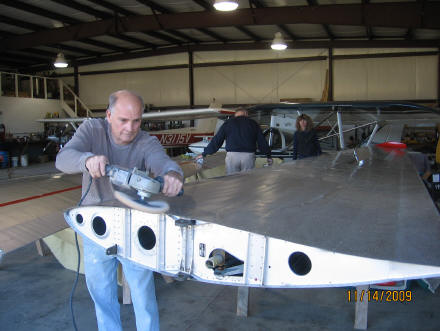 Here Pete Hall, Sue Wonderling and Tim Mara along with (not in the picture) JJ, AL Dave and Bill share in the polishing chores.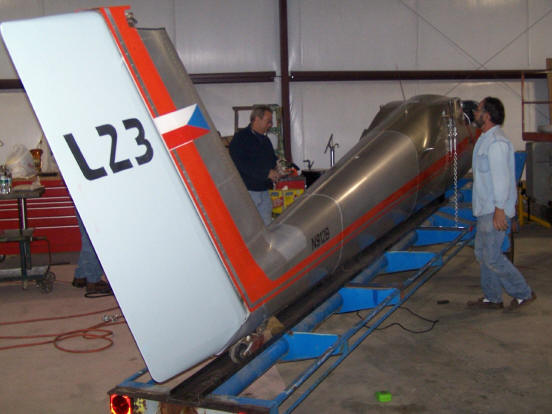 November 28th 2009
BSC Members including Bill, Sue JJ, Al, Tim and John the final polishing and coats of Wx/Seal and Wx/Block were applied to transform the dull weathered finish into a gleaming "as-new" Super Blanik. The work to fit the L-23 to the old K7 trailer was started with Pete Hall fabricating anchor pins and hardware, Bill fabricating and installing a center channel and everyone doing the heavy lifting and giving advice :o). Another week of fabrication is needed to finish the trailer project before sending it out for sanding and painting then this too will be another finished project ready for the 2010 season.



some of the work crew that helped transform the old K7(?) Trailer to fit the L23
...L-R, Tim, Al, Bill (hiding behind wing), Rick and Sue others who helped not pictured here
Dave, JJ, Pete, John and Austin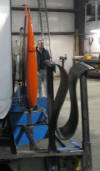 Left to right: #1 and #2 Wing Spar towers by Bill Holder. Custom machined trailer wing spar pins and sleeves by Pete
#3 Having a winch or lift to hold things in place makes work easier
Tim designing and forming tail holders with legal advise from Rick
#4 Tail holder in place and wing tip cradles
#5 Tail fixture in place
#6 - #7 It's nice when it all comes together and still fits!



2009 Season
The 2009 soaring season has come to an end at Brokenstraw with the first snowfall on October 15th. 2009 will be remembered for many great flights, several cross country starts for the more novice flyers and Dan Olson has regained the Boomerang trophy from Dansville. We've added new members, we now have a K6 added to the club fleet and a Glasflugel Hornet C is a new partner owned glider on the field. The K7 that started BSC has been sold as was the Grob Twin along with the 304CZ so these gliders have moved on to new owners and locations
Come join us!
BROKENSTRAW AIRPORT
2009 LABOR DAY WEEKEND
39th Annual Fly-In / Drive-In Picnic



Another "near perfect" Labor day weekend event as visitors started to arrive
Excellent soaring, excellent food, excellent friends and visitors.


























September 6th Flight
It appeared Sunday was going to be an "iffy" day of soaring. The day started off with high cirrus cloud cover, cooler temperatures and light east winds. The first gliders launched but stayed close to the field hanging on to whatever lift they found and generally not climbing much above 3000 feet but as the day progressed every glider that launched stayed aloft and eventually made climbs to 6,000' and some nearly 7,000' MSL. The day continued to improved and only fatigue called the pilots home. Below is a flight trace from 304CZ "HM", Tim Mara who joined by LS3 "DD", Dan Olson and Libelle "MW" Matt Williams made the flight together.




"click on imaged for flight traces and statistics

First new glider pilot solo for 2009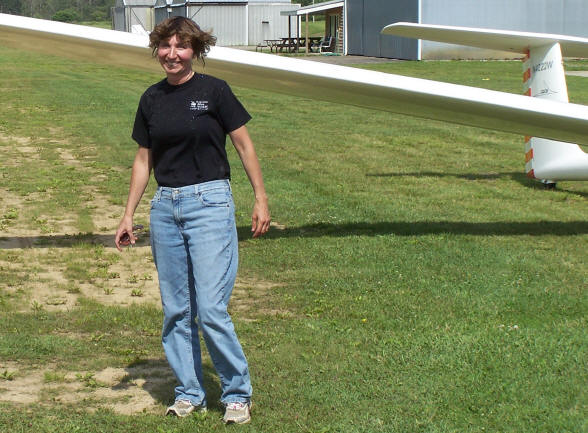 OK, it wasn't overnight...but on June 6th
Sue Wonderling made her first "Glider" solo in the Grob Twin
Sue is also an accomplished Power pilot.. but the glider "thing" took some "gettin used to".
but now she's hooked! (if not a bit wet)

Season begins
April 18th was officially the first flying day for BSC. Cool and windy with high cirrus clouds did no not deny those who made these first 2009 flights.
Dan (LS3) Rick (Astir CS) and Tim (SGS-134) all made climbs to or near 7500', Dan and Tim made the short run to Fairbank Farms, Warren and back before calling it day 1.
The final assembly of the "fleet" was completed on April 26th and the hangar filled to the brim ready for the season.

In 2008 we added 3 new club members and 2 partnership gliders were brought to the field. We also have two new private glider pilots with Matt Williams and Austin Zeyfang both passing their practical and flight test among the many accomplishments at BSC.
On October 6th 2007 Matt Williams got an early Christmas surprise when his grandfather
showed up unannounced with a Glasflugel Libelle.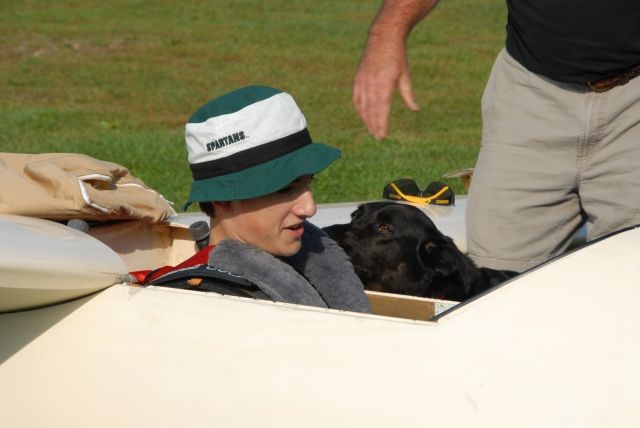 Starting to sink in.....this really is "MY GLIDER"!


Shown here Matt in the cockpit, his grandfather Pete Hall, "the gift giver" on the left and the instigator, Tim Mara pointing out the finer features of the Libelle on the right.


BROKENSTRAW AIRPORT LABOR DAY WEEKEND 2007
"SOARFEST"
37th Annual Fly-In / Drive-In Picnic
Saturday September 1, 2007óNoon until Sunset
Another GREAT Labor Day event is in the bag...
Once again we had a great turn-out with visitors from Aero Soaring, Cleveland
and the locals all filling the sky with excellent soaring enjoyed by all...
Thermal conditions were excellent on Saturday, good one Sunday and still soarable on Monday but then we were finally shut out late in the day as high cirrus clouds came to tell us it was time to go home.
Everyone there remarked at want an excellent site Brokenstraw is for sailplanes...fly as long as you like, enjoy the company and facilities and just relax with friends...just as it should be
Hope you too will join in next year!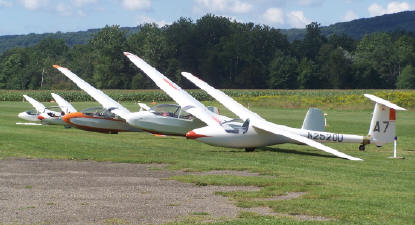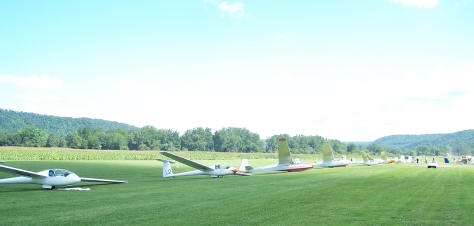 getting assembled and ready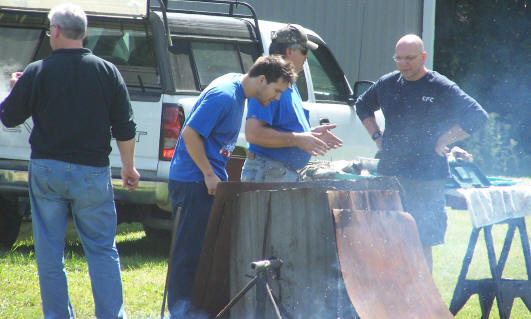 Pig Roast....no one wanders far away when this is almost ready!

SOARING!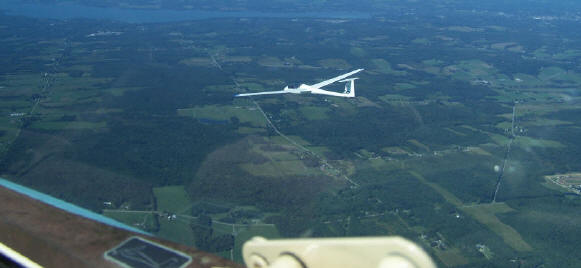 DD (LS3) from the cockpit of HN (Pegasus) north of Brokenstraw near Chautauqua Lake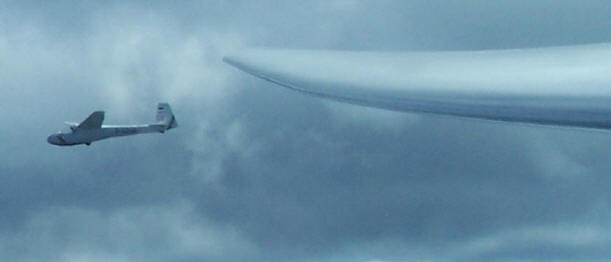 Warren Whitford (his first XC flight, about 1 mile short of silver distance) in the Aero Soaring Club's K8 at cloud base (6500') flying from Aero Soaring Club to Brokenstraw, photo shot was from Tim in HN after meeting Warren half way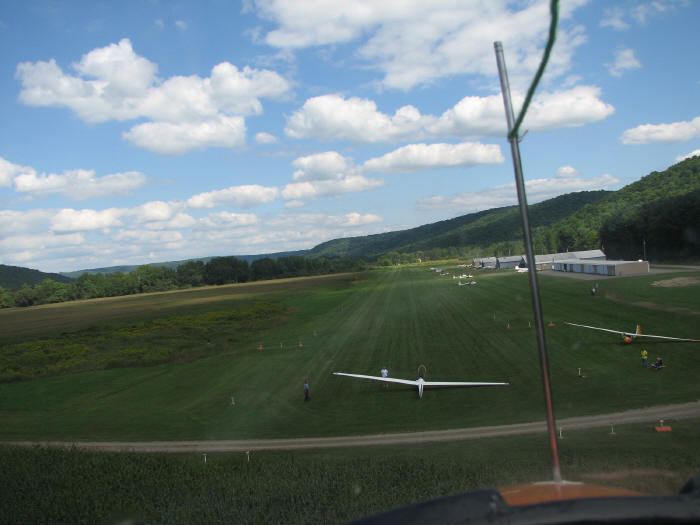 Brokenstraw Soaring clubs K7 coming in to land after a near perfect Labor day soaring adventure

2007


In 2007 Matt Williams and Austin Zeyfang both got to solo in the BSC K8 !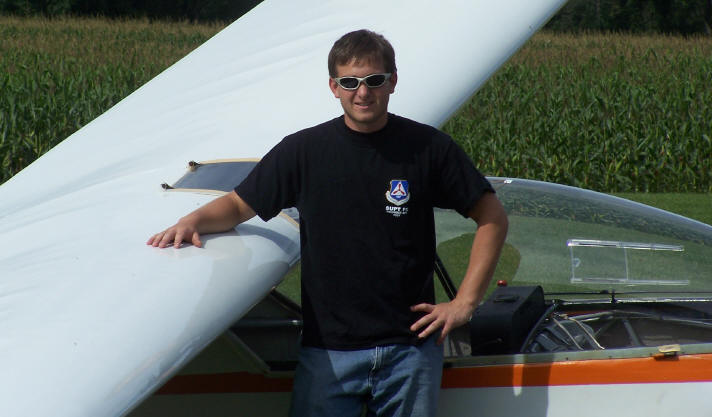 Austin Zeyfang joined BSC in 2007 and has since soloed with the CAP 233's, L23's and more recently soloed the K7 at Brokenstraw. Since the CAP doesn't encourage "soaring" as a sport Austin's logbook had only two out of nearly 60 flights with altitudes above release with the CAP he had in his dual first K7 flight at BSC an altitude gain of nearly 5000 feet! Since then he has completed his SSA "A, "B", and on only his 3rd solo completed the "C" Badge requirements.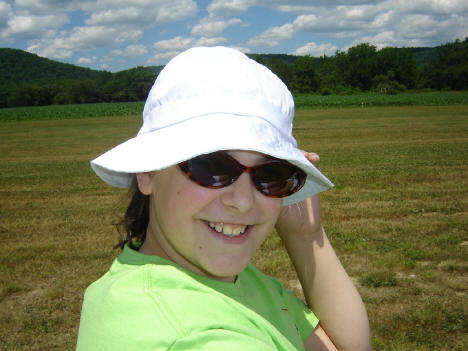 #2 on the ground crew and #1 cookie baker is Jennifer Williams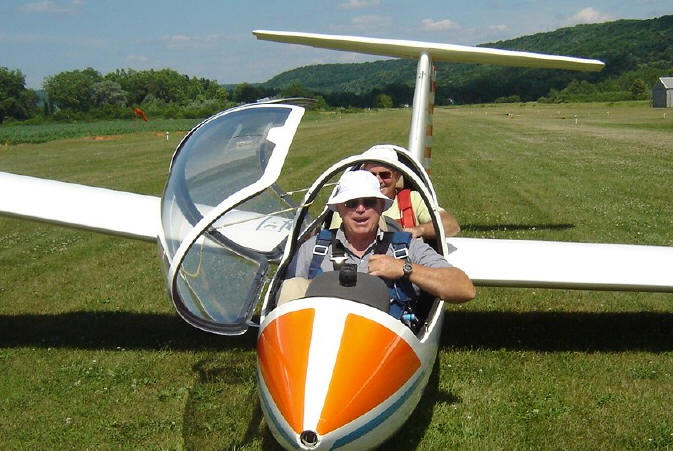 Pete Hall joined the club in 2007, Pete is tow pilot, Terri Williams father, Jenny and Matt's grandfather and financier for Matt's soaring. Pete also got his glider rating 20? years ago in 2-33's but never had a soaring flight until this one ended after 2+ hours a short X-C and 5000'+ altitude gains at BSC with Tim.... chances are, Pete will do more soaring now :o)

2006 THE YEAR IN REVIEW
Brokenstraw Soaring's newest solo pilot
Matt Williams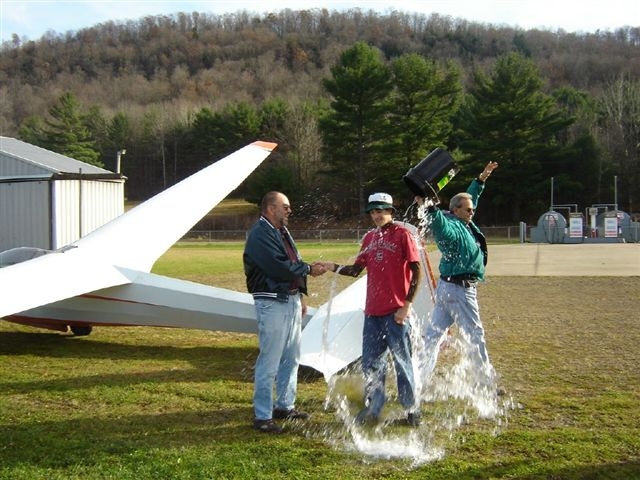 Congratulated by CFI-G Rick Hernan and is given his proper soaking by Club President Bill Holder.
Matt soloed on his 14th birthday, November 10th, 2006.
Matt's Grandfather, Pete Hall, was the tow pilot through Matt's training, and did the honors for the solo flights.
Congratulations Matt!
NEWEST "PRIVATE GLIDER PILOT" AT BSC
Congratulations Cori!.......It's Official!
Cori Capik accepting her Private Pilot certificate from FAA Pilot Examiner Bob Bianco from the Rochester FSDO on August 10th, 2006 having successfully completed her FAA Private Pilot practical examination and flight test.
And with her FIRST PASSENGER as an FAA Certificated "PRIVATE PILOT"
Here Cori straps her Mom, Cherry in for a ride in the BSC K7




Cherry also is a "Private Pilot Airplane" having just recently also passed her FAA check ride
and wishing them many more....

Sunday July 30th 2006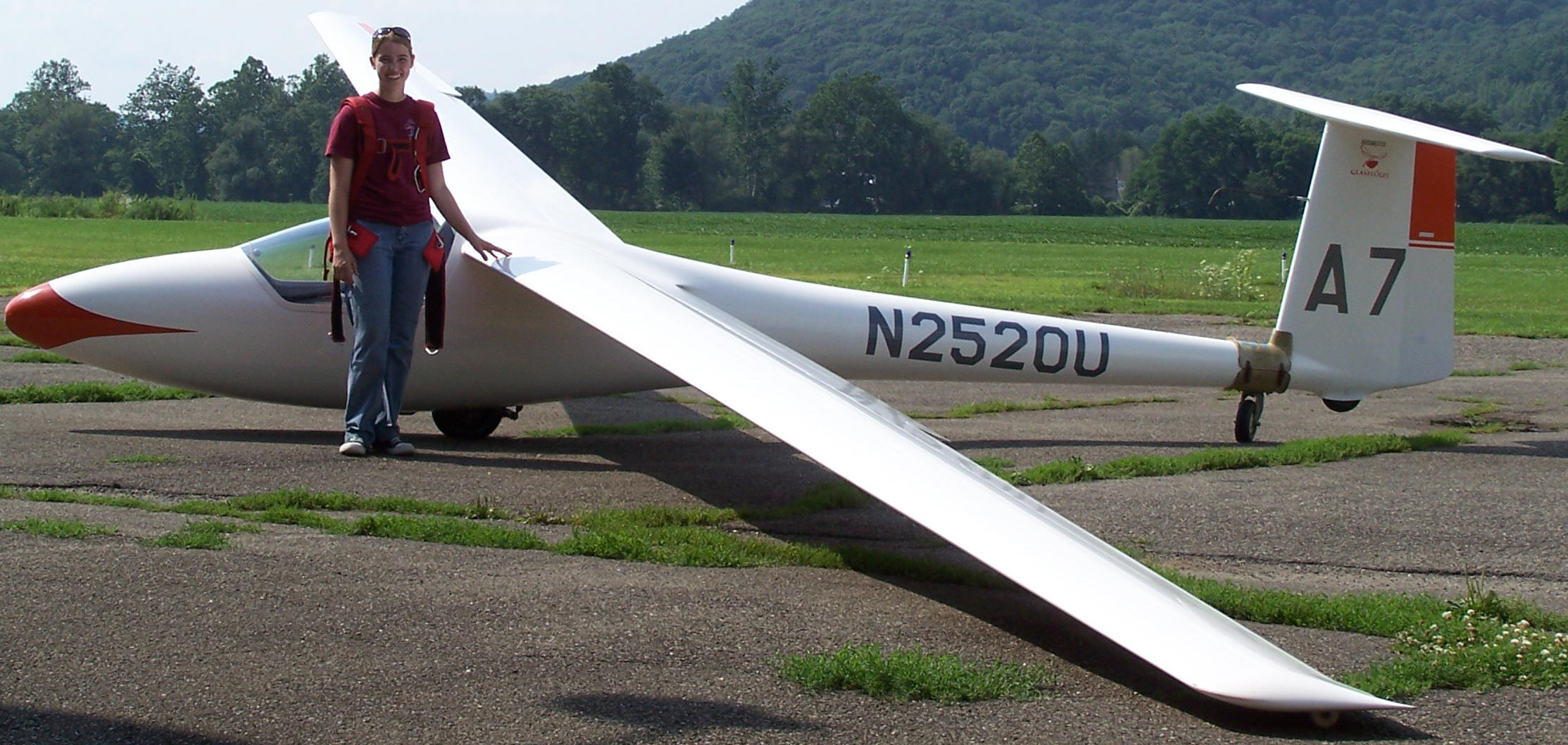 It's getting pretty hard not to make Cori the main attraction,
(seriously folks there are other things going on at BSC!) But again on Sunday July 30th., Cori made another milestone with her first flight in a modern fiberglass sailplane, the Club Libelle.
(Cori is one of 4 partners in this glider)



Getting serious: July 9th 2006 Cori made her first flight of a single-seater in the Brokenstraw Soaring Club's K8

BOOMERANG
Changing hands twice in 2006
Boomerang Trophy - The Region 3 Boomerang Trophy is a "capture-the-flag" style of trophy. Starting at their home field, any soaring enthusiast who is a member of Soaring Region 3 can land at the gliderport of another club then in possession of the Boomerang, and that club must turn over the wooden trophy and its log book. In the logbook are the comments, notes and reminiscences of previous pilots' Boomerang exploits. The pilot now taking possession gains the right to place his Boomerang Trophy Story in the log book, and to hold onto the Trophy until another competitor comes to snatch it. The Trophy fosters cross-country soaring and friendly competition among clubs.
In 2006 one of our members, Rick Hernan made the flight to Dansville to re-claim the Boomerang
The Trophy stayed secure at Brokenstraw until August 13th when it was claimed by Niklay Silipov from Harris Hill Soaring Club.



Image above of Riz after returning home to Dansville (Finger Lakes Soaring) with the Boomerang trophy
The Region 3 Boomerang trophy has resided at Brokenstraw Soaring club for the last 2 years only making a short vacation at Mayville NY (Aero Soaring Club) for a few days before members from BSC once again flew in to claim it. Finally on July 23rd 2005 Jim Rizzo from Finger Lakes Soaring Club made the flight into Brokenstraw to claim the trophy....
Congratulations to RIZ! .... We'll be back for this very, very soon!

2005 a year in review
PARTNERS!
A Club Libelle partnership was formed in August 2005 at Brokenstraw Soaring Club



The first partner to take flight was JJ Kush on August 28th.

and Previous:
First flights take place at Brokenstraw Soaring Club



Pawnee 235
Club founding members gather with the first Club Ship....


Schleicher K7
The Airport



The local area



Chautauqua Lake (NY) to the north taken from the Libelle



Allegheny River and Warren Pa to the east

Information on:
Brokenstraw Soaring Club, Rates and membership
HOW TO FIND US.......
http://www.airnav.com/airport/P15
FAA Identifier: P15, 1 mile E of PITTSFIELD, PA
Lat/Long:
41-49-57.3690N / 079-21-41.5940W
41-49.956150N / 079-21.693233W
41.8326025 / -79.3615539
(estimated)
Elevation: 1230 ft. / 375 m (estimated)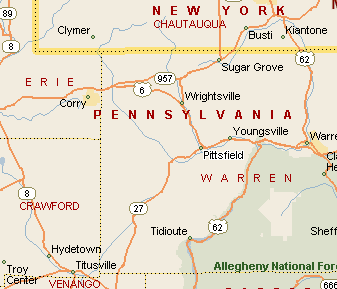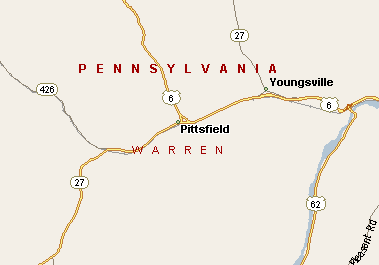 Printable Local Driving map to the airport on this link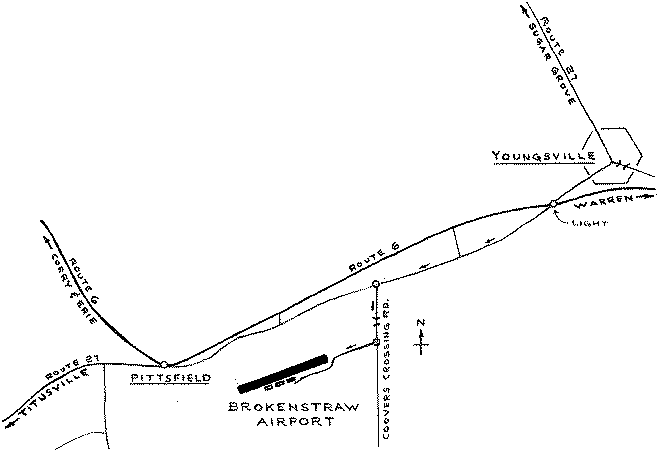 Official site of Brokenstraw Airport
www.flybrokenstraw.com
Brokenstraw Airport - Pittsfield, PA - (P15)
Current Brokenstraw weather available on:
http://www.wunderground.com/swf/Rapid_Fire.swf?units=both&station=KPAPITTS30